For OEM Daihatsu parts in the United States, contact:

Daihatsu America, Inc.
20 Centerpointe Dr. Ste. 120
La Palma, CA 90623-2561
Toll-Free: (800) 777-7070 [Parts Availability / Technical Assistance]


1992 Daihatsu Charade SE
1.0L EFI SOHC 3-cylinder (~ 53hp according to Chilton's)


09/15/07: Replacement starter had been giving me trouble for about two years - finally replaced it with a "new" starter for free (apparently, AutoZone provides a lifetime warranty on these things).
09/01/04: New starter, rebuilt "DuraLast" (or some other fake AutoZone brand). $79.99 after core refund. I have a feeling the rebuilt starter ain't going to last 12 years like the original Denso unit the car came with :)
10/09/03: Finally updated my inspection sticker to 10/2004 (was 02/2002, oops). Took a pair of new tires on the back and a $20 tail pipe (last one fell off somewhere, lol). The Daihatsu is once again LEGAL to drive :)
09/09/03: Crankshaft pulley bolt became loose a few months back, destroying woodruff key and eating away at the respective notches on the crankshaft, harmonic balancer and timing belt pulley. Replaced these parts, changed out the belts - $250 later, the Daihatsu runs again.
07/15/00: Engine rebuild due to timing belt failure - new timing belt, alternator belt, water pump*, valves*, intake/exhaust rocker shaft, clutch assembly*, pistons cleaned up / new rings, rod bearings.


5-speed manual

Power disc brakes (front), drum (rear)

7-Speaker Sound System (as originally configured before I bought the Jeep):

Sony CDX-C7000X 50x4 AM/FM/CD Head w/ Remote

Sony CDX-727 10-disc 2 sec. ESP Changer

Sony XM-752EQX Amplifier 75x2 RMS (300W peak)

Pioneer 4" 2-way (x2 in-dash) 15W RMS / 50W peak

Pioneer 6.5" 3-way (x2 doors) 50W RMS / 160W peak

Pioneer 6x9" 4-way (x2 hatchback) 60W RMS / 220W peak

Sony XS-L1030 10" Subwoofer 120W RMS / 400W peak
(~0.7 ft^3 homemade MDF sealed enclosure)


Dual-stage alarm system with starter kill, dual remotes

* Water pump, clutch assembly special ordered from Checker Auto Parts (known as Shuck's/Kragen Auto Parts elsewhere). The valves and a complete gasket set were ordered by the shop in Northeast El Paso that cleaned up the head and installed the new valves & rocker shafts. The remaining parts couldn't be ordered 'on the market' and had to be ordered from Daihatsu directly at full retail price.

Purchased a new center air vent assembly and obtained some helpful engine diagrams from Wight Motors in Ryde on the Isle of Wight, UK. Extremely helpful folks!

Daihatsu G100 / CB-90 Engine: (random pics, maybe help somebody with vacuum hoses after they slap the thing back together :)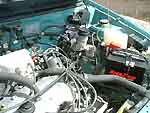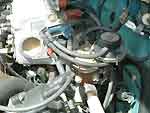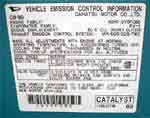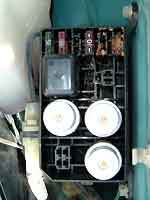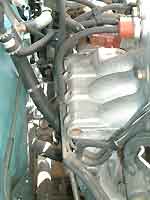 More pictures: Before and after timing belt failure, LOL.


For Daihatsu parts in the USA:
Daihatsu America, Inc.
20 Centerpointe Dr. Ste. 120
La Palma, CA 90623-2561
Toll-Free: (800) 777-7070 [Parts Availability / Technical Assistance]

They will provide you with a list of dealers around the country that will sell you parts drop-shipped from California. The dealership in Arkansas - Bill White Daihatsu (800) 333-5612 - seems to be the most reasonable on prices and the most helpful. Daihatsu does not have an American web site, as the company officially discontinued U.S. passenger vehicle sales in 1992. EPA regulations mandate 10 years of support from Daihatsu though, to maintain emissions compliance on existing vehicles (correct me if I'm wrong... and they've exceeded 10 years at this point anyway).

For a repair manual, you can order the 1992 Daihatsu Charade Factory Service Manual, part DAI-PS92-9185-GE ($52.45 + shipping) from Bill White Daihatsu (800) 333-5612. There's also Chilton's Import Car Repair Manual 1988-1992 (#7907) ISBN 0-8019-7907-2, usually available at your local library. Unfortunately, NO Haynes manual is available for this vehicle.

Amazing Facts:
Despite the small engine, this car is actually more fun to drive than the Jeep... it's like a street-legal go-kart, or a motorcycle with two extra wheels!!! :) It keeps up with traffic, topping out at about 95mph (empty, one occupant, downhill, tail wind, etc., etc.). City gas mileage since the engine rebuild is 41.59mpg (7.885 gallons drove 328 miles). Highway mileage worked out to about 42.89mpg, averaging 75mph. Highway mpg drops to 34mpg at higher speeds (~ 85mph). It's roomy, too, holding up to SEVEN college students.

The Sound System:
The car came with two ruined paper speakers in the dash and a Daihatsu tape deck that was inaudible at highway speeds. A low-quality Craig tape deck eventually destroyed the original front speakers, requiring removal of the entire dash assembly (instrument cluster, center console, glove box, etc.). Door speakers and rear parcel shelf set required a few holes cut (easy in comparison to dash speakers).
I've gone through several head units - the Craig experienced severe electrical noise; the Aiwa and all replacement Aiwas cut out completely at medium volume (wtf???). The Sony seems to be perfect so far - very happy with the unit. No noise, great FM reception with ultra-fast seek and a handy IR remote. It plays CD-RWs, too. The changer is also convenient, but has great difficulty with generic CD-R discs (forget about RW). Memorex Platinum and bulk 3M 12x/80min discs do work fine, though.
Subwoofer is a welcome addition - much more bass than I expected from this amp (mixed-mono, also powers 6x9s). The sealed enclosure cost about $30 to make with an enormous sheet of MDF board, a terminal cup, carpet and metal guard for the woofer. A 5.5mH coil separates the sub at around 115Hz and four caps (two in parallel on each speaker) for a total of 258µf per channel separate the 6x9s at around 154Hz.



I finally bought a "new-to-me" used 2000 WJ in August 2001. It's a Laredo, 2WD with the standard six, an enormous upgrade from the Daihatsu ("wow, it has air conditioning!", heh).

To save money, I gutted the Daihatsu in terms of car audio (re-installed the Aiwa CD deck, and only operate with four speakers now - the 6x9's in the rear parcel shelf are no longer connected).

[ Back to Main Page ]